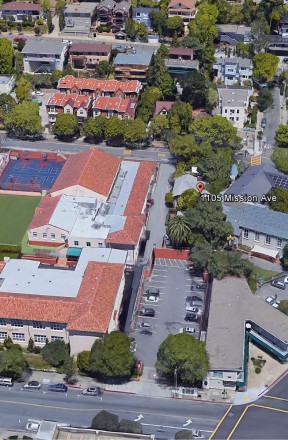 DEVELOPMENT SITE FOR SALE
$800,000
1105 Mission Avenue, San Rafael, CA
On Mission Avenue, sandwiched between Church of Saint Raphael / Mission San Rafael to the west and St. Paul's Episcopal Church to the east.
The property is currently developed as two houses on one lot accessed by a 10' driveway easement along the westerly border with the Catholic Church's driveway.
1105-A: The front house was built, according to City records in 1953. It is a 2BR/1BA floorplan of approximately 1,025 sq ft. There are wood floors in the living area. The kitchen has a gas range and washer dryer hookups. There is a deck with openings from the living room and kitchen. The basement storage area houses the water heater and forced air furnace, both of which were replaced according to permits in 2015. There appears to be a perimeter foundation and a composition shingle roof.
1105-B: The rear house was built in the late 1800's and is a studio floorplan. It has until recently been tenant occupied and is being held vacant for a sale.  There is probably a post and pier foundation. Overall the building is in "fair" condition and would benefit from improvement or replacement.
The site is just over 6,500 sf and has a moderate downslope from Mission. The Mission side has the original stone wall and pedestrian entrance.
The property is zoned "5th and Mission Retail/Office".  This is a very liberal zoning which also allows for apartments. According to a City planner, this zoning has no setback requirements, a 42' height limit, 1,000 sf per unit and 1.5 uncovered parking spaces per 2BR apartment. One guest space per five units and one "affordable" unit for a development over four units. In theory the property could be developed with up to six apartments.  Buyer to confirm zoning and potential for development with the City.
Possible options might include:
1)    Re-developing the entire site,
2)    Demolishing the rear house and building a duplex
3)    Adding an additional unit in front
4)    Keeping and remodeling the current use
Buyer to confirm the availability of these potential options. Listing agent has not confirmed or researched the viability of any of these options nor the uses allowed under the current zoning.
Rental Income:
1105-A; Front house:     $2,200 on a month to month rental.  Market approximately $2,700.
1105-B; Rear house:       Vacant. Market rent approximately $1,800.

Michael Burke

Lic#00454938
415.877.1077
mburke@marinapartments.com
MarinApartments.com | My Bio
DISCLAIMER: The information set forth on this site is based upon information which we consider reliable, but because it has been supplied by third parties to our franchisees (who in turn supplied it to us) , we cannot represent that it is accurate or complete, and it should not be relied upon as such. The offerings are subject to errors, omissions, changes, including price, or withdrawal without notice. All dimensions are approximate and have not been verified by the selling party and cannot be verified by Decker Bullock Sotheby's International Realty. It is recommended that you hire a professional in the business of determining dimensions, such as an appraiser, architect or civil engineer, to determine such information. Sotheby's International Realty ® is a registered trademark licensed to Sotheby's International Realty Affiliates LLC. Each Sotheby's International Realty office is independently owned and operated.
The above information including square footage is based on data received from the seller and/or from public sources. This information is deemed reliable but has not been independently verified and cannot be guaranteed.